SUNSHINE® Ceiling Panel Heaters available as two standard modules providing efficient, even heating.
*SUNSHINE® stick-on heater modules can be easily applied to the inner side of the existing ceiling board panel.  Simply peel and stick the heating pads onto the ceiling boards.  Place insulation on top of the ceiling panel heater.  Suitable for suspended and fixed ceilings.
*SUNSHINE® ceiling heater module on steel plates (white chromadeck) is specially designed for suspended ceilings where the existing ceiling boards will not be used.  Ideal for replacing aged ceiling boards, or replacing ceiling boards altogether in new suspended ceilings.  The heater is simply laid/fitted into the suspended grid system.
No painting needed and does not discolor! Insulation is then placed on top of the ceiling panel heater.  Suitable for new or retrofit applications. 
How does radiant ceiling heating work?
We all know hot air rises, right?  Using a ceiling heater seems contradictory?
Ceiling heating works most efficiently.  It does this by transferring heat created in the ceiling through a process called infrared radiation. Heat travels through the entire room, the hot 'rays' travel from the radiant heat element until they reach a surface. This is similar to the warmth felt from the sun's rays, which is not warm air but actually infrared energy.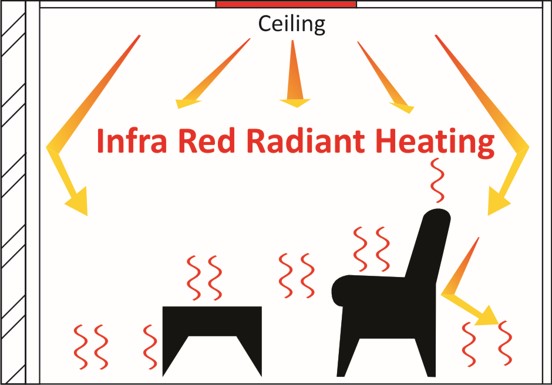 Items which had not previously been exposed to heat are now warmed by the radiant device, and are typically slightly warmer than the surrounding air. Areas that are 'colder' are more likely to attract heat rays to it, meaning that it will warm up more quickly. This means that you will eliminate problematic 'cold spots' and warm the area more evenly than a convection heater.  
Ceiling heating is also more efficient as zone heating compared to using a conventional heater i.e. heating individual rooms or zones within a room like only a dining table area for example.  
Read more on convection heating versus radiant heating.